Make a Request
If you'd be interested in Olivia Lawless producing some bespoke work for you, fill in the request form below.
---
Olivia Lawless
Hi, I'm an award winning erotica and fantasy author living in the Midwest. My interests in many kinks help fuel my writings. Most of my stories have strong female leads, with an equal amount of humor and steamy highly-explicit sex scenes.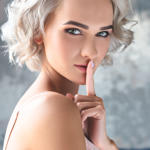 Adept
£0.01 per word
---
Time to get a pre-purchase sample:
Less Than 24 Hours
Time to get completed manuscript per 500 words:
Less Than 36 Hours
---
Sample:
She pulled on her breasts and the substance in her ass made her tingle. The sensation started spreading out, and when it inched to her pussy her skin flickered brighter. The mesmerizing display of tattooed butterflies raced to her back and formed wings. She could feel the wings on her back. She tentatively moved muscles she knew she shouldn't have to stretch and flutter her wings.
---