Make a Request
If you'd be interested in Tiny Sparks producing some bespoke work for you, fill in the request form below.
---
Tiny Sparks
Writer of mainly BDSM erotica and erotic romance based on experience. Self-published.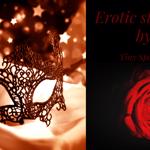 Adept
£0.05 per word
---
Time to get a pre-purchase sample:
Less Than 72 Hours
Time to get completed manuscript per 500 words:
Less Than 48 Hours
---
Sample:
See my books, you can read the first few pages free, always!
---