Make a Request
If you'd be interested in Edgar Eden producing some bespoke work for you, fill in the request form below.
---
Edgar Eden
My writing would turn the heat on and would make you go mad. The events in my tales are the ones which, you wish you had experienced. I feel the happiness, pain, joy, and desires of my characters through my writing. With my bold and intense tales, I always try to create awareness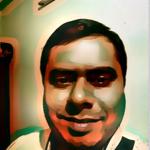 Professional
£0.01 per word
---
Time to get a pre-purchase sample:
Less Than 6 Hours
Time to get completed manuscript per 500 words:
Less Than 6 Hours
---
Sample:
Cassandra liked the heat of his palms on her breasts. He massaged them, pressed them, moved them, and caressed them. He brushed with the pulp of his fingers her swelling tips! He pinched them, pulled them gently. Her nipples! And this warmth which was communicated in her stomach. She felt like she was sinking, like her underwear was getting wet... And yet she was sure it's not the time of ... What was happening to her?
---