Make a Request
If you'd be interested in C.A. Cavatica producing some bespoke work for you, fill in the request form below.
---
C.A. Cavatica
Follow my Instagram to read short, steamy snippets of my work. I post regularly. Let's chat about creating the story you'd like to read.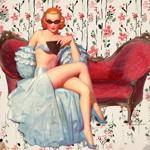 Adept
£0.10 per word
---
Time to get a pre-purchase sample:
Less Than 24 Hours
Time to get completed manuscript per 500 words:
Less Than 6 Hours
---
Sample:
"I… I don't know how. I've never…" My eyes widened at the sight of his ridged cock. It looked heavy, even in the grip of his powerful, masculine hand. He closed the space between us and my lips instinctively parted to receive. They pulsed the way my pussy does when it needs attention. I bounced on my knees, begging for it, though his size was daunting. "Don't worry darlin'. I'll teach you to do it just the way I like it." He said as his smooth, glistening tip brushed my lips.
---