Make a Request
If you'd be interested in HicokyDickoryDock producing some bespoke work for you, fill in the request form below.
---
HicokyDickoryDock
I've written smutty fanfiction for a while and even participated in Nanowrimo 2020 (with plans to participate again in 2022)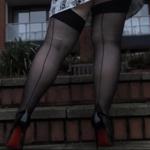 Amateur
£0.05 per word
---
Time to get a pre-purchase sample:
Less Than 12 Hours
Time to get completed manuscript per 500 words:
Less Than 12 Hours
---
Sample:
Using my nose to slightly spread her lips from the top, I slide my tongue between them to get my first taste. Licking a long strip from her wet entrance to her clit, she makes her first groan. I procrastinate a little by dipping my tongue inside her, but I decide that I shouldn't make her squirm too much. Lightly wrapping my lips around her clit, I poke my tongue out to gently start getting her bud to swell and fill with blood.