Make a Request
If you'd be interested in R. Marlaan Rush producing some bespoke work for you, fill in the request form below.
---
R. Marlaan Rush
Connoisseur of sensual and sexual delights in all their forms-emotional, mental, physical and spiritual. And I enjoy sharing these erotic morsels with the world. I'm also willing to write in all categories.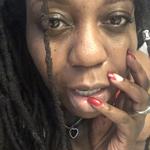 Adept
£0.12 per word
---
Time to get a pre-purchase sample:
Less Than 24 Hours
Time to get completed manuscript per 500 words:
Less Than 24 Hours
---
Sample:
Byron sees Moses watching him and hugs Ava tightly, allowing his dick to snake it's way up between her snug ass cheeks. She squeezes him and he almost cums right then...such strength in those luscious cheeks! "I felt that, naughty girl." Byron murmurs against the crown of Ava's head, tightening his embrace. He kisses her and rubs his chin in her hair. "Just know you're going to pay for that." Ava and Moses' eyes meet and Moses sees the lust burning there, engulfing her brain.