Make a Request
If you'd be interested in Rose producing some bespoke work for you, fill in the request form below.
---
Rose
My style is vivid and sensual. I focus on building the right tension and sparing no detail. I consider your fantasies an art, and I want to help you put them into words. Whether you like it romantic, kinky, or both - I will provide you with consistent high-quality work.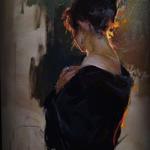 Professional
£0.08 per word
---
Time to get a pre-purchase sample:
Less Than 12 Hours
Time to get completed manuscript per 500 words:
Less Than 24 Hours
---
Sample:
Her body is a sculptor's dream, with glowing curves as smooth as melted gold. I drag a hand over her soft stomach, drawing a finger over the thin silver hoop in her belly button before pressing my palm lightly into her abdomen. She arches her back as my other hand wraps around her thighs. He massages her scalp as his eyes move from her face, down her curves, to my lips on her cunt. I stiffen my tongue, drawing a firm line up and over her clit.