Make a Request
If you'd be interested in Ashley McKenzie producing some bespoke work for you, fill in the request form below.
---
Ashley McKenzie
I do have a degenerate mind, I will be the first one to admit it. I also love writing and, putting two and two together, there was only one small step towards becoming an erotica writer. I greatly enjoy playing with the readers' minds and challenging their taboos.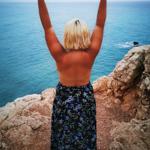 Amateur
£0.02 per word
---
Time to get a pre-purchase sample:
Less Than 6 Hours
Time to get completed manuscript per 500 words:
Less Than 6 Hours
---
Sample:
"Bless me, father, for I have sinned! It's been three days since my last confession." Upon hearing these familiar words, uttered by an even more familiar voice, Father Wallace couldn't help feeling a rush go through his body, from his handsome, leonine head to his toes and, then, to the very tip of the one part of his body that should be the last thing on any priest's mind and, of course, it never is.
---