Make a Request
If you'd be interested in Soothing_Pen producing some bespoke work for you, fill in the request form below.
---
Soothing_Pen
I'm a writer who writes with the intention of making the reader feel every word.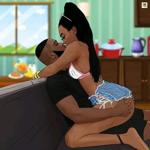 Adept
£0.10 per word
---
Time to get a pre-purchase sample:
Less Than 24 Hours
Time to get completed manuscript per 500 words:
Less Than 36 Hours
---
Sample:
Mr. Jeremiah is a stalker on Natasha, she notices this and always draws more attention from him. One morning, Natasha is seen cleaning the windows, she's putting on some hot &sexy clothes (a mini gown, exposing her breasts), and she cleans and shakes her butt cos she notices Mr. Jeremiah was staring at her. She says to herself, comes get me handsome, as she notices him approaching. He hugs Natasha from the back, his well-erect dick against her butt. He turns her and kisses her passionately.
---