Make a Request
If you'd be interested in Sapphire producing some bespoke work for you, fill in the request form below.
---
Sapphire
As a Muslim co-wife, I spend my nights alone whilst my husband spends time with his new, much younger wife. This alone time allows my mind to wander through the deepest, darkest sexual realms. My thoughts, fantasies and burning desires are brought to life through my writing.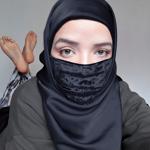 Amateur
£0.05 per word
---
Time to get a pre-purchase sample:
Less Than 12 Hours
Time to get completed manuscript per 500 words:
Less Than 36 Hours
---
Sample:
Sitting on the floor, leaning against the wall, I let my mind wander as I imagine for a moment what it would be like to be having sex so frequently. Not with him though. Hell no. With someone else. A stranger. He'd be well equipped and know exactly what to do, with no inhibitions. Someone that could make my headboard bang against the wall. All night long. Make my eyes roll, my body shake. The thought gives me goosebumps and I feel my nipples harden at the idea. A stranger.
---