Make a Request
If you'd be interested in Fiona Mae Jacobs producing some bespoke work for you, fill in the request form below.
---
Fiona Mae Jacobs
Fiona Mae Jacobs (she/he/they) was born on June 6, 1696. She fled her scheduled hanging at the Salem witch trials and has lived here and there as a word witch, penning erotic spells and stories for the masses.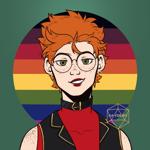 Adept
£0.03 per word
---
Time to get a pre-purchase sample:
Less Than 12 Hours
Time to get completed manuscript per 500 words:
Less Than 24 Hours
---
Sample:
He runs his thumb across your bottom lip. You let your tongue roam free, then nip it. Of course you're ready, you say, but not with your words. You say it with your nipples, now hard against your chemise. You say it with your needy, breathy sigh. You say it loud and clear, and your husband hears every word of it.
---