Make a Request
If you'd be interested in Dusky Ledoux producing some bespoke work for you, fill in the request form below.
---
Dusky Ledoux
I specialize in hardcore and taboo erotica. I write about extreme female submission to powerful men, dark and gothic themes, and hucow fiction. Vintage erotica (1960s and 1970s) is also a passion of mine. When not writing, you can usually find me in Los Angeles or Las Vegas.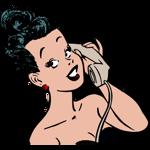 Adept
£0.08 per word
---
Time to get a pre-purchase sample:
Less Than 6 Hours
Time to get completed manuscript per 500 words:
Less Than 6 Hours
---
Sample:
He entered me and began to pump my pussy, the motion rocking me with the same rhythm as the waves. Between grunts, he told me that my wet pussy smelled like the ocean, like all the fish in the sea and laughed. He began pumping faster and exploded in orgasm with a loud moan. It felt like gallons of cum washed into my cunt along with the salt water that lapped my body as the tide began to roll in. "Take that, you rich fucking bitch," he moaned as he fell onto the sand beside me.