Make a Request
If you'd be interested in Cleo Borden producing some bespoke work for you, fill in the request form below.
---
Cleo Borden
Recovering academic who now writes erotic fiction. I specialize in hardcore themes, bdsm, and taboo fantasies. I love words and would welcome the opportunity to work with you to shape your customized story.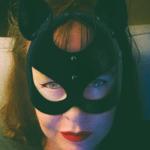 Adept
£0.08 per word
---
Time to get a pre-purchase sample:
Less Than 6 Hours
Time to get completed manuscript per 500 words:
Less Than 6 Hours
---
Sample:
He entered me and began to pump my pussy, the motion rocking me with the same rhythm as the waves. Between grunts, he told me that my wet pussy smelled like the ocean, like all the fish in the sea and laughed. He began pumping faster and exploded in orgasm with a loud moan. It felt like gallons of cum washed into my cunt along with the salt water that lapped my body as the tide began to roll in. "Take that, you rich fucking bitch," he moaned as he fell onto the sand beside me.
---