Make a Request
If you'd be interested in Rosie Dare producing some bespoke work for you, fill in the request form below.
---
Rosie Dare
Rosie Dare, also known as Rosie L. Dare and R.L. Dare, is a steamy romance and erotic romance writer. Unique locations and quirky characters, with a sprinkle of humor, are hallmarks of her stories.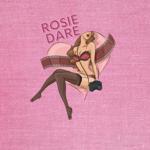 Adept
£0.05 per word
---
Time to get a pre-purchase sample:
Less Than 6 Hours
Time to get completed manuscript per 500 words:
Less Than 6 Hours
---
Sample:
I groaned and began kissing her face, neck, and then the tops of her breasts. I could see a little bit of black and red lace peaking out of her dress, and I couldn't wait to see what her lingerie looked like. I let one hand wander to her breasts, then her waist, and finally down her thigh. She raised her leg slightly and pressed it against my leg. I then followed the curve of her leg back up and cupped her buttock, letting my fingers slip under her dress
---
This writer is currently on a break since 20/01/2023 and is not currently accepting requests.