Make a Request
If you'd be interested in Courtney producing some bespoke work for you, fill in the request form below.
---
Courtney
I enjoy writing books others find offensive, dark, or taboo. I don't believe in kink shaming and look forward to expanding my abilities as a writer.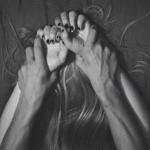 Adept
£0.04 per word
---
Time to get a pre-purchase sample:
Less Than 72 Hours
Time to get completed manuscript per 500 words:
Less Than 48 Hours
---
Sample:
"You're so perfect, so perfect, baby girl." Zane pressed his forehead to mine, still gripping me, still pounding relentlessly into me. "Your pussy is trying to milk me for all I'm worth. Do you want my cum deep in you, baby girl?" "Yes, Zane. Give it to me. I need it," I moaned and tipped my head back.